Accusations of narcos financing political campaigns rock Tamaulipas
Accusations of politicians colluding with criminal organizations are nothing new for Tamaulipas. But the latest allegations come on the eve of a new governor taking office
Journalist Hector de Mauleón dropped a bombshell in his Sept. 19 column, revealing leaked diplomatic cables alleging the campaign of incoming Tamaulipas governor Américo Villarreal received funding from the Cartel del Noreste – which dominates the Nuevo Laredo crime plaza. Villarreal won the June 5 gubernatorial contest for the ruling MORENA party, taking 50.27% of the vote in Tamaulipas. The state borders Texas and has been rife with drug cartel violence over the past dozen years.
De Mauleón cited diplomatic cables dated March 14, 2022, and March 30, 2022, written by U.S. Ambassador to Mexico Ken Salazar with the titles, "MEXICAN NAVY MEMBERS DISAPPEARANCE," and, "AMERICO VILLARREAL CARTEL MONEY."
The newspaper El Universal published the cables – written in English and leaked to de Mauleón by a source – on its website.
The second cable raises an investigation led by the DEA and U.S. Department of the Treasury "on the subject of Gerardo Teodoro Vazquez Barrera" – an alleged Cartel del Noreste moneyman known as "El Gerry" – "who disappeared along with 2 members of the Mexican navy earlier this month when they were transporting assets of the northeast cartel to finance the political campaigns of the MORENA party in the State of Mexico in 2023." It continued, "A multimillion-dollar account in his name has been found in the British Virgin Islands, presumably belonging to the cartel." The cable alleges funds from that account were sent to another account belonging to Villarreal's son – "approximately 7 million US dollars from the cartel" – and eventually the Villarreal campaign.
Villarreal vehemently denied the accusations, saying in a statement, "Any information that tries to tie me to this is completely unfounded and has the sole purpose of distorting the truth and seeking to damage my reputation and my status as governor-elect of Tamaulipas." He also produced a letter from a Dutch law firm, saying his son had no bank accounts, which could have been used for transferring funds.
Salazar tersely told the press last week, "These cables are not from the United States. Period." Foreign minister Marcelo Ebrard later stated, "It's classic that they're inventing cables. The ambassador is saying it, not me."
Accusations of a drug cartel meddling in the political process came as little surprise in Mexico, where accusations of cartel collusion in politics have been rife for decades. Accusations of collusion have been especially rife in Tamaulipas, where two former governors are imprisoned on money laundering and organized crime charges and the ruling party's gubernatorial candidate was assassinated on the eve of elections in 2010.
It comes as President Andrés Manuel López Obrador (AMLO) refuses to criticize drug cartels or their leaders and shows them an inexplicable deference – even as he blasts law-abiding Mexicans from the bully pulpit of his morning press conference. The most recent example of AMLO's deference was his insistence on calling Miguel Ángel Félix Gallardo, 'El Jefe de Jefes', and one of the Guadalajara Cartel founders, "Sir," saying after the 76-year-old was granted home detention: "Of course, I'm going to say 'sir' to Félix Gallardo 'El Jefe de Jefes". I have to respect everyone." (Gallardo, imprisoned for 34 years, still remains behind bars.)
The leaked cable said of the Cartel del Noreste:
"The (cartel) has made it its mission to obtain all possibly influence in the state of Tamaulipas, one of the most disputed territories in the country, which could tip the balance of power between the cartels in their favor."
The Cartel del Noreste dominates Nuevo Laredo, which neighbours Laredo, Texas – the busiest commercial port of entry on the U.S.-Mexico border and long coveted by criminal groups as a lucrative smuggling corridor. It formed in 2014 after Los Zetas fractured into the Cartel del Noreste and Old School Zetas. A state police commander described CdN as formidable and dominant in Nuevo Laredo. "CdN pays off all the authorities that it can," the commander said. "[Nuevo] Laredo is immensely lucrative."
The leaked cable also comes as Villarreal alleges a messy transition ahead of his taking office Oct. 1 – with outgoing governor Francisco García Cabeza de Vaca of the National Action Party (PAN) supposedly refusing to co-operate. Villarreal alleged in a press conference Thursday that the state government had arrest warrants ready for him. The state prosecutor's office denied those claims.
For his part, Cabeza de de Vaca has spent much of the past year fending off an impeachment attempt by MORENA lawmakers as the federal prosecutor's office pursues money laundering and organized crime charges against him. The attempted impeachment went to the Supreme Court, which in August ruled in favour of the governor, saying the state congress in Ciudad Victoria could act. The Congress, at the time controlled by the PAN, did not impeach Cabeza de Vaca.
The PAN-PRI-PRD electoral coalition from 2022 – known as Va por México – has contested the Tamaulipas election, alleging irregularities in municipalities near Ciudad Victoria, where a so-called self-defence force mobilized in favour of MORENA.
In electoral district 13, MORENA won 87% of the votes, according to news outlet Animal Politico. MORENA swept all the votes – 100% – some polling stations. Va por México representatives say they were expelled from the polls. "They threatened people to vote for MORENA," the police commander said.
The self-defence force, known as Columna Armada Pedro J. Méndez, swung into action prior to June 5. Its leader, a local cacique known as Octavio Leal Moncada, delivered a fiery speech on the election eve, saying: "Let no one be left without voting! Even the last person has to vote tomorrow." He said ominously of those in opposition,
"Fate will reach whoever betrays us in the municipalities where we have a presence. It will reach whoever it is, whoever betrays us, sooner or later, and it will be an order of fate, not of justice, it will be human justice, ours, because blood debts are collected in blood".
The federal electoral tribunal – the supreme court for electoral matters – is expected to rule on the Va por México complaint prior to the Oct. 1 transition.
Vigilantes-turned-Gulf Cartel allies
The Columna Armada Pedro J. Méndez began as self-defence force in a region of orange groves and cattle ranches between Monterrey and Ciudad Victoria, some 220 miles south of McAllen, Texas. One version has it that the columna armada formed in 2010 – mainly in the municipalities of Hidalgo, San Fernando, Villagrán, San Nicolás, Mainero and San Carlos – after Los Zetas arrived and started extorting and killing farmers and ranchers.
But they quickly became aligned with criminal groups – namely the Gulf Cartel, from which Los Zetas split, sparking violence in Tamaulipas. The police commander said, "They have control of huachicol (stolen gasoline) in the area, along with drug running."
The newspaper Reforma noted that the columna armada has a presence in municipalities, "which form one of the main routes for trafficking migrants toward the border." A feature on the Columna Armada in El País described it as a de facto authority, which backs its preferred politicians. El País interviewed an academic at the College of the Northern Border campus in Matamoros, Jesús Pérez Caballero, who said of the columna armada:
"There are videos of politicians from all parties giving their support to the organization and vice versa."

"The organization has been able to go from being a unifying group for violence against individuals perceived as enemies … to another of a political nature with political awareness of its needs in the region, over a period of a decade, which speaks of how intertwined it is in the region where it operates."
While it backed MORENA in 2022, the columna armada supported Cabeza de Vaca in the 2016 election – seeing it as an entry into state government. But they became sworn enemies. Only MORENA was able to hold campaign rallies in the region.
Leal Moncada, the Columna's leader, 79, was arrested in July 5 in Monterrey on homicide charges for a 2010 murder. Supporters immediately blocked the highway between Ciudad Victoria and Monterrey to demand his release. (Leal Moncada remains locked up in Reynosa.) Supporters also accused Cabeza de Vaca of revenge.
¡VIVA MÉXICO! THE PRESIDENT GIVES THE ANNUAL INDEPENDENCE 'GRITO'
AMLO delivered the annual independence 'grito' on Sept. 15, re-enacting the 1810 shout for independence delivered by parish priest Miguel Hidalgo in Guanajuato state. The annual grito packed the Zócalo – with many coming for the free concert by Los Tigres del Norte and others coming to celebrate independence.
Many attendees interviewed by the media insisted they attended of their own volition and were not acarreados – people herded into to political functions for a sandwich, soft drink and a few pesos. (AMLO's predecessor, Enrique Peña Nieto, routinely bused in supporters from Mexico state, which surrounds Mexico City on three sides, for annual gritos.)
But media outlets published videos of buses being parked in the streets surrounding the Zócalo – the massive square in central Mexico City, which dates back to Aztec times and is surrounded by the Metropolitan Cathedral and National Palace (from which the president delivers the grito.)
Death to classism! Death to racism!
The grito is carried out at state houses and town halls around the country, along with embassies abroad. Shortly after 11 p.m., the president will shout, "¡Viva Miguel Hidalgo!" and do the same with other independence heroes. The crowd shouts back ¡Viva! It ends with a lusty ¡Viva México!
AMLO shouted 20 ¡Vivas! this year. He shouted it for the independence heroes. He continued with ¡Vivas! for freedom, equality, democracy, sovereignty, universal brotherhood and peace. He ended with ¡Death to corruption! ¡Death to classism! ¡Death to racism!
The ¡Muertes! provoked controversy online – as critics overreacted once again to AMLO's habitual trolling. His call for corruption to die came after he leveraged a political opponent's alleged corruption to fracture an opposition electoral alliance.
But the "¡Muertes! also spoke to the president's base, in country with a long history of discrimination on social class and skin colour.
It also continued his not-so-subtle use of sensitive issues such as class and race for political gain – something he's done deftly and effectively for much of his career (starting with his super slow speaking pace and costeño accent for which he was disparaged as a provincial hick.)
AMLO christened his political movement MORENA, a darker-skinned female and another name for the national patroness Our Lady of Guadalupe. It resonates with supporters – one of whom told this newsletter at a 2021 MORENA campaign stop:
"He connects with people through the name MORENA, that we're proud of our skin colour. There's racism and Mexicans sometimes discriminate among ourselves."
AMLO has used his guest list for the grito and the traditional Sept. 16 military parade to make political statements and lend succour to international actors and causes. He invited the Cuba's president to the 2021 military parade following a sharp repression of protesters on the communist island.
This year, AMLO invited guests he said symbolized "ideals" and "the struggle for justice." The list included former Bolivian president Evo Morales – whose claims of being ousted in a coup after controversially a fourth presidential term in 2019 were supported by AMLO, who professes a foreign policy of non-intervention (but speaks out in support of Latin American lefties.) Former Uruguay president José Mujica was invited, along with the relatives César Chávez, Che Guevara's daughter and the father and brother of Julian Assange.
Also invited by not appearing: the family of Martin Luther King Jr., the Dalai Lama, Indian Prime Minister Narendra Modi, Noam Chomsky and Jesuit priest Father James Martin.
Observers viewed the guest list as a nod to the left in AMLO's coalition – especially the radical, pro-Cuba, anti-imperial parts, which never abandoned him, even others on the more moderate left did after his 2006 election defeat. "With these gestures … he gives the sense of still having one foot on the left, but it's purely rhetorical," said Ilán Semo, history professor at the Iberoamerican University.
Why AMLO has gone to bat for Assange, who is awaiting extradition to the United States, remains a mystery. The president has repeatedly spoken of Assange at his morning press conference, offered him asylum in Mexico and promised to raise the issue with U.S. President Joe Biden. The newspaper La Jornada – long a mouthpiece for the Cuban regime and the voice of anti-imperial views – has championed the Assange case. (La Jornada is thinly read, but has collected more government advertising than any other media outlet during the AMLO administration – spare broadcasters Televisa and TV Azteca.)
At the military parade, AMLO called Assange, "The Quixote of our times," and pledged to "continue demanding the freedom of Julian Assange."
AMLO is not the first Latin American leader to find the Wikileaks founder useful for distracting from atrocious domestic policies on press freedom and transparency. Assange sought refuge in the Ecuadorian Embassy in London, even as the country's then-president Rafael Correa persecuted the press and critics.
The Mexican president routinely picks fights with the media and badmouths journalists – even publishing the reputed income of the reporter who exposed his son living in Houston. The president presents his press conference as a proxy for transparency, though it's mostly trolling and and gaslighting. He often quips, "I have other information," when presented with uncomfortable facts.
He also has presided over a non-transparent government. Mexico introduced a surprisingly robust access to information system in the early 2000s known as IFAI (now INAI). It facilitates public information requests and the full INAI board can order institutions to release documents and information.
AMLO has disparaged INAI as a waste of money. But the criticism is a smokescreen from his governments lack of transparency. The AMLO administration routinely marks information reservado (classified) on national security grounds – continuing a trend started on the 2012-2018 administration of president Enrique Peña Nieto. AMLO issued a decree earlier this year declaring the Train Maya – a railway being built around the Yucatán Peninsula – a national security priority, meaning all information would be classified and the normal permitting process bypassed. (The president said the decree was necessary "because a foreign government is intervening," referring to what he considers "pseudo-environmentalists" funded by USAID, who have won injunctions against the project.)
Critics made cynical predictions on the day that AMLO lauded Assange that the president would quickly abandon any pretences of radical transparency. They didn't have to wait long. Journalist Peniley Ramírez published a leaked, unedited version of a truth commission's inquiring into the 2014 attack on the 43 students from the Ayotzinapa teachers training college.
Almost immediately, the government undersecretary for human rights condemned the leak and asked the federal prosecutor's office to investigate – exposing hypocrisy that Ramírez promptly pointed out.
The newspaper Reforma, which publishes Ramírez's column, noted in a Monday editorial:
"WHAT IS ta double standard? It's when the Mexican government asks for freedom for Julian Assange ... for revealing confidential and classified information; and at the same time unleashes his pack on digital networks against Peniley Ramírez ... for revealing confidential and classified."
AMLO PRESENTS A UKRAINE 'PEACE PLAN'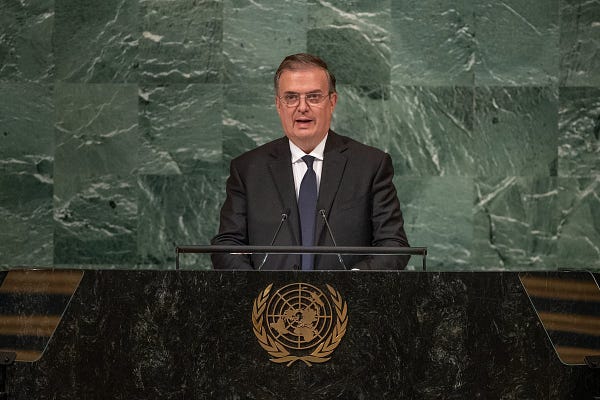 AMLO seldom shows much of an interest in foreign affairs. He barely travelled abroad prior to becoming president. One of the few trip involving a jaunt to San Diego for the MLB All Star game. He only made four trips abroad since becoming president in 2018, never once attending an international summit.
But AMLO pulled out a seemingly improvised plan for world peace and ending the Russian invasion of Ukraine – a topic he has spoken of infrequently. At the Sept. 16 military parade, AMLO fancifully proposed a five-year global truce – with a cease to all fighting everywhere. He even nominated three mediators – without consulting them – Pope Francis, the prime minister of India and the United Nations secretary-general.
AMLO called the invasion "reprehensible" (without condemning Russia) and invoked Mexico's only history of invasion – which has occurred five times, he said, since the nation's independence in 1821. But he blamed the "great powers," which he accused of "explicitly or silently position themselves before the conflict only to serve their hegemonic interests," rather than singling out Russia. He continued:
"That is why the suspicion cannot be avoided that, although it may seem wicked and incredible, this war, like many others, is being fueled by the interests of the war industry."
The plan drew ridicule and incredulity – not least because AMLO has failed to pacify Mexico, though he speaks his so-called security strategy of "hugs, not bullets" producing results. Ukrainians promptly responded with rousing disapproval. An advisor to President Vladimir Zolinsky derided AMLO's peace plan as a Russian plan.
As AMLO presented his peace plan, one of his guests for indolence and the military parade, Evo Morales – stridently pro-Russia in its Ukraine invasion and anti-NATO – undercut the host's message with pro-Putin tweets.
SUDDEN, BUT SUPERFICIAL UKRAINE INTEREST
AMLO has never showed much sympathy for Ukraine, never said a harsh word for Russia and rejected any talk of sanctions. He's spoken suspiciously of NATO, criticizing it and the UN for failing to prevent the Russian invasion.
"How is it, on the one hand, that the member governments of NATO deny Ukraine entry to the organization at crucial moments, while on the other they offer weapons and economic or commercial sanctions against Russia, measures that have only served to aggravate the conflict, produce more suffering for victims, their families and refugees, to aggravate the shortage of food and energy and to drive world inflation, all phenomena that harm the vast majority of peoples of the world."
AMLO's allies have expressed open support for Russia – with the small Workers' Party (PT), which courts relationships with communist governments the world over, and some in his MORENA party organizing a Mexico-Russia friendship group in Congress. It didn't go unnoticed.
Mexico, however, voted in favour of a UN resolution condemning the Russian invasion. For his part AMLO blasted the UN as largely "ornamental," while complaining that it hadn't acted on his previous proposal to end world poverty by replicating his cash stipend plans implemented at home.
Foreign minister snaps frivolous selfie
Foreign Minister Marcelo Ebrard – fresh from his own scandal of snapping a selfie at the queen's funeral – presented AMLO's peace plan at the UN General Assembly. It largely went unnoticed – a reflection of Mexico's stature in international relations. Other Latin American leaders stole the spotlight for their speeches.
Ebrard met with the Ukrainian and Russian foreign ministers while in New York. His tweet from a meeting with Russian foreign minister Sergei Lavrov (with a smiling photo first published by the Russians) spoke volumes.